10 best hotels in Maldive Islands
Our top picks
Lowest price first
Nearest to
Best reviewed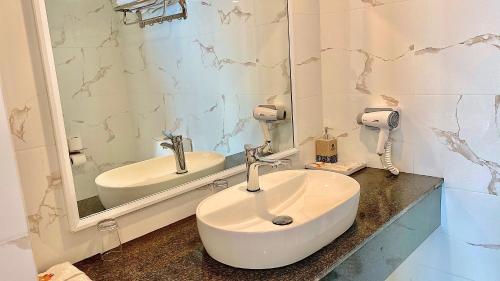 See all
Kaani Palm Beach at Maafushi
South Male Atoll,Maldive Islands - View on map
Airport transfer
Car park
Free Wi-Fi in all rooms!
Front desk [24-hour]
Golf course [on-site]
Fitness center
Bicycles
BBQ facilities
"Location wise this hotel is the best on Maafushi island and they have the best Infinity pool on the rooftop. Very professional staff, very clean and new building. They provide great and fun activities and excursions with very reasonable prices, special thanks for the Italian lady responsible for the excursions, doing activities with her were a great experience. The hotel manager Mr. Ibrahim is very professional and always around to check guests satisfaction, he makes you feel like you are staying at your home. Mr. Visham the housekeeping manager and his staff are doing a great in keeping the hotel always perfectly clean. I would like to note as well the outstanding service of Abdulkadir in serving the breakfast with a big smile each morning."
Show more
Avg price per night
$ 157
See all
Summer Island Maldives
North Male Atoll,Maldive Islands - View on map
Airport transfer
Free Wi-Fi in all rooms!
Front desk [24-hour]
BBQ facilities
Swimming pool [indoor]
Golf course [on-site]
Luggage storage
Contactless check-in/out
Avg price per night
$ 532
See all
Centara Ras Fushi Resort & Spa Maldives
North Male Atoll,Maldive Islands - View on map
Airport transfer
Shuttle service
Free Wi-Fi in all rooms!
Front desk [24-hour]
Hot tub
Fitness center
Check-in/out [express]
BBQ facilities
"Ten reasons why you have to live in "Centara Ras Fushi" in Maldives when honeymoon. 1. Such a blue ocean you never see! 2. Best Restaurant (Thai -restaurant, Italian -restaurant, with best food and service. Every night with different show,ex : live show , magic show) 3. Comfortable bed ! (My wife love this!) 4. Friendly service ! ( Every serviceman will greeting to you with smile and eye contact ) 5. Various species (blue tears,fish .....) 6. New equipment ( Whole new hotel ,restaurant, every thing ) 7. Economy price ( I got a very economy price from agoda ) 8. Free Wi-Fi whole island ( Very convenient !) 9. All you can drink (including beverage, soda,wine ) 10. With Chinese language service (Taiwanese including !)"
Show more
Avg price per night
$ 553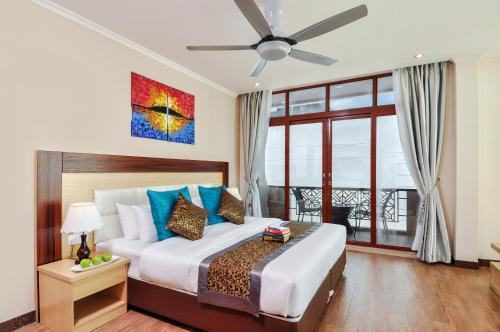 See all
Triton Beach Hotel & Spa at Maafushi
South Male Atoll,Maldive Islands - View on map
Airport transfer
Bicycle rental
Car park
Shuttle service
Swimming pool [indoor]
Hot tub
Free Wi-Fi in all rooms!
Front desk [24-hour]
"From the moment we arrived at Maafushi till we left this lovely island was an excellent memorable experience of Maldives with this hotel services. All of our request through Agoda was fulfilled by this hotel. Even, we got a surprise for being upgraded to a jacuzzi bedroom, early check-in, late check-out and discounted excursion price. Hotel staffs were extremely responsive, informative, attentive and helpful. They picked up us from the jetty, brought our luggage, friendly and sincerely explore, inform and suggest the best plan for our outbound trips from the island. Aikman is the one you should discuss with in this regards. We took all our trips (night fishing, 2 resorts excursion and a half-day trip) from this hotel on a very competitive price (even with discounted price) compared to the same packages offered by other tours or hotels in the island. I even cancelled my booked and paid excursion package with other tour for such reason (of course, I got the money back). When my wife come back from our full day excursion with a small wound in her left big toe, Ali, the hotel manager quickly brought his first aid box and help me to medicate it. Overall, Triton Hotel is a new professionally managed hotel. Credit card payment is receivable by the hotel. Jacuzzi bedroom is spacious with a bathtub inside and jacuzzi on balcony. It is incredibly clean and maintained room. A big bottle of drinking water is served in the room which is eco-friendly action compared to use plastic drinking water. Small mini market, bikini beach and public beach are just 3 minutes walk from this hotel. Wifi is excellent. Free beach towel, bicycle and sundeck are provided at request. Foods is just great. Breakfast is simple but tasty. At our last day in Maafushi, Ali personally accompanied us to the jetty. Thank you Ali and Aikman for your guys hospitality and great services. We will definitely come back to Triton Hotel ! "
Show more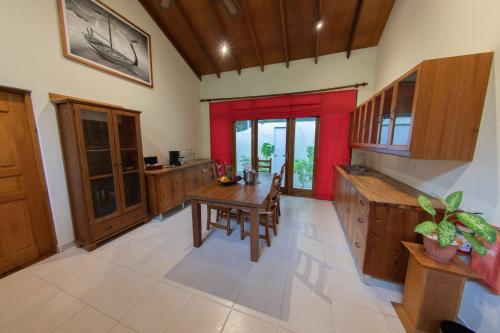 See all
Reethi Beach Resort
Baa Atoll,Maldive Islands - View on map
Airport transfer
Shuttle service
Front desk [24-hour]
BBQ facilities
Hot tub
Fitness center
Luggage storage
Check-in/out [private]
"we honeymooned here 11-18 dec 2012 in water villa. it was heaven. the rooms are simple but have all that you need & for the price you pay compared to most other maldives resorts we researched, it's fantastic! staff are all lovely, especially salim at the water villa bar & sontesh at the pool bar. we literally did nothing for a week & couldn't have been happier. the spa was nice but pricey do unfortunately only had one massage. we did the dolphin safari on speedboat which was great & the technical tour was very interesting. did some snorkelling & saw some really cool fish but the coral is all bleached. coming from australia we are a bit spoiled when it comes to snorkelling, stunning beaches & sunsets but we still loved all of these elements in the maldives & they made our honeymoon just perfect. overall reethi beach is a lovely place to get away in a casual, relaxed atmosphere with stunning views & friendly staff. note - the tides cause the island to constantly change so the best water villas for sunset were not fully submerged for some parts of the day. it changed during the 8 days we were there though. didn't affect our stay as we could step straight down off the balcony into the water every day except the first when the tide was out slightly, then it was like stepping off the deck onto your own private beach!"
Show more
Avg price per night
$ 430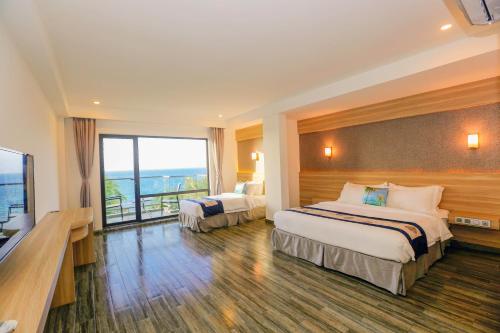 See all
Kaani Grand Seaview at Maafushi
South Male Atoll,Maldive Islands - View on map
Airport transfer
Bicycle rental
Car park
Free Wi-Fi in all rooms!
Fitness center
Sauna
Front desk [24-hour]
Check-in/out [express]
"I did not like the food so much. But seems this is in all Maldives Staff was amazing best staff I've ever seen. You feel like you are with your family Did not like that no AC in hall and between rooms View was amazing For whom want to have cheap vacation in Maldives you can take this hotel and go to near islands and resorts for 100_150 dollar for day use its better than you stay in one resort and pay 700 dollar per night. Island is very cheap food drinks you can buy any where with good prices "
Show more
Avg price per night
$ 175
See all
Hard Rock Hotel Maldives
South Male Atoll,Maldive Islands - View on map
Airport transfer
Bicycle rental
Shuttle service
Free Wi-Fi in all rooms!
Swimming pool [indoor]
Kids club
Front desk [24-hour]
Check-in/out [express]
"We enjoyed every moment there! It was our first time visiting Maldives and it was AMAZING! Hard Rock Hotel Maldives is BEAUTIFUL! The room was clean and beautiful! We love our private swimming pool. The water was sooo blue! We love the fact that they provide great play list for us to play in the room as well. We are looking forward for our next visit at Hard Rock Hotel Maldives."
Show more
Avg price per night
$ 1,051
See all
Sun Siyam Olhuveli
South Male Atoll,Maldive Islands - View on map
Airport transfer
Bicycle rental
Shuttle service
Free Wi-Fi in all rooms!
Swimming pool [indoor]
Hot tub
Front desk [24-hour]
Check-in/out [express]
"I'm very particular about place I stay and as usual, I went through every hotel listed in Agoda that falls under my budget (USD 200 per night). After comparing review rating from different websites, comparing actual price including transfer charge, checking out official website and going through numerous user photos, I decided to book this resort - Deluxe Room as total cost was comparatively affordable (low room charge balances out high transfer charge) for the quality of resort and available facilities provided. While I was excited about variety of dining option & facilities, I was skeptical about the room as it didn't seem so modern & bright in the pictures. But I wasn't left with any other option that meets all my needs. It turns out I worried for nothing. 1) Transfer process happened smoothly 2) Room was neat & clean & cool 3) Enough activities were offered among which I chose beginner's scuba diving course for the cost of USD 480 / 2 persons 4) Great beaches & relaxing sunbeds - One side of the island is lively with enough of reefs & waves - The other side of the island is deadly quiet and lets you swim or read with peace of mind 5) Good food & beverage (must try seafood pizza & classic mojito) 6) Great ambience of different themed dining areas 7) Last but not the least, great and friendly staffs that make you smile till the moment of departure If I must list out bads : 1) Island is a bit far (45 minutes) from the airport 2) Transfer charge was more expensive than what was mentioned in Agoda (which I expected) 3) Goods being sold in shops are pretty expensive (USD 40 for a sunscreen lotion, which I also expected out of every Maldives resort) 4) Bathroom was smelling like urine (this can be actual improvement point that hotel should look into) So overall, I'm very very satified and I had heavenly time at this place. Thanks for helping me making flawlessly dreamy vacation!!! * Note : Deluxe Plus Rooms are same as Deluxe Rooms but built newly. "
Show more
Avg price per night
$ 763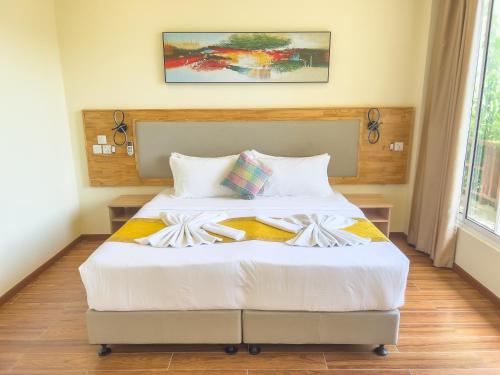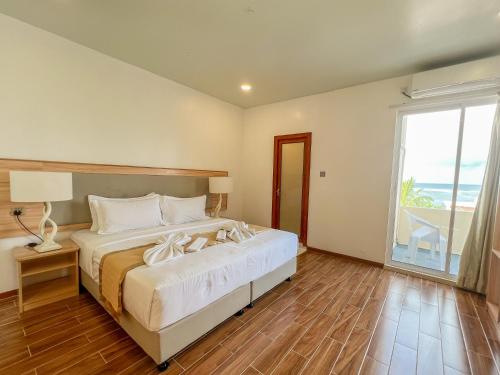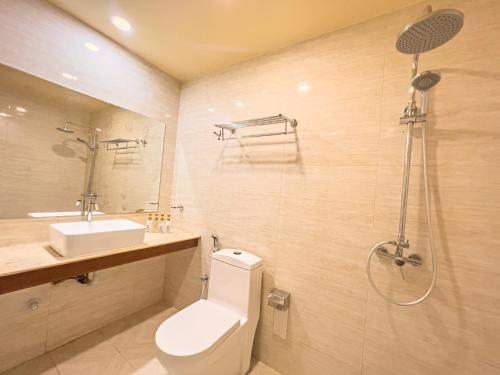 See all
Rehendhi Villa
South Male Atoll,Maldive Islands - View on map
Airport transfer
Shuttle service
Free Wi-Fi in all rooms!
Front desk [24-hour]
Check-in/out [private]
Swimming pool [outdoor]
Laundry service
Restaurants
See all
Arena Beach Hotel at Maafushi
South Male Atoll,Maldive Islands - View on map
Airport transfer
Shuttle service
Free Wi-Fi in all rooms!
Front desk [24-hour]
Swimming pool [indoor]
Golf course [on-site]
Bicycles
Check-in/out [express]
"cheap price for an awesome four star hotel experience looking for the best but cheap accomodation with excellent service? this hotel is for you! Arena Beach Hotel. Tip 1. Book on Low Seasons to get half price deals. We even got upgraded to a Sea View Room! Just ask if they are available. Best eat all you can breakfast! Book a room with freew breakfast and you wont regret it. Tip 2. Who says going to Maldives is expensive? we have our Snorkeling, Turtle watching, Wale Watching, and Sandbar experience with Free Lunch for only $25. They have evening dinner by the beach for only $15 (eat all you can experience) unli pasta unli barbecue and so much more! Tip 3. Hotel transfers are only $50 two way (shared speedboat). When you land at the Male Airport there is a free call or free telephone to call anywhere in maldives as long as it is landline. it is located at the information assistance booth. Tip 4. there is nothing much to do in Hulhumale so i recommend to go directly in maafushi. maafushi is one of the nearest and cheapest island in maledives. outside arena beach hotel has a public beach where you can enjoy ur bikinis! and mingle with other tourists! questions? richangelo168 instagrm"
Show more
Avg price per night
$ 154
Fast facts about Maldive Islands, Maldives
| | |
| --- | --- |
| Accommodations | 1,241 properties |
| Popular hotel | Kaani Palm Beach at Maafushi |
| Popular area | Alifu Alifu Atoll |
| Nightly rates from | $10 |
| Airport | Malé International Airport |
| Reasons to visit | Beaches, Romance |
Traveler impressions of Maldive Islands
good for few days relaxation, value for money is very poor , organization are interested in money making than servicing customers , you are totally depending on weather condition, you will be really unlucky of you meet bad weather conditions, thus taking away the main reason you are visiting the island, i.
Namir
, United Arab Emirates
Thoddoo Island (local island) and Ari Atoll. Definitely the best and most beautiful places in the Maldives.
there are not only luxury resorts, but also guest-houses on local islands that allow to get to know the Maldives to people with low budget.
An amazing place with really nice people and the most incredible resorts if you like sun relaxing snorkeling.
I recommended Gulhi Island for who want to feel calm and quite nature and Ari Atoll to see the whale shark
I opine Maldives are way overrated. In terms of nice and clean beaches, clarity of water their are ok but unfortunately in the absence of hills and mountains, their beauty is not complete.
Many islands in Maldives, u can join their hotel packages, they provide many activities u want with reasonable price,is worth
bring your favor food and drinks with you to Maldives.. also besure bring few high limit credit card or lots cash
Maldives islands are a great destination, but the airport facilities are really poor and services totally overpriced.
It is simply beautiful. Once you have visited the Islands, you would want to come back again for sure.
This was our first honeymoon destination we planned and it was worth every penny. After viewing almost all resorts on Maldives for 8 full months, this was booked before 6 months for the best possible rate and for the best excursions and activities which was either all inclusive or for discounted rates.
Definitely 2 nights are not enough for Maldives. Resorts offers lots of tours and the water and facilities offered by the resorts are truly inviting.
1. bring snorkeling equipments 2. bring water resistant camera 3. brings lots of light and relaxed clothes 4.
The islands were very beautiful. Each island boasts a different variety of landscape which can definitely catch your attention.
Anthony Lawrence
, Philippines
Male is the business end of the islands. Busy,.......crowded and interesting (at least I thought) only for the odd temple or market but the walking tour we took was plenty.
The Maldives lives up to its reputation and does not disappoint. It is a most beautiful place and the people are delightful.
Speed boat is always the option for traveling from one island to the other. Take boat trips going around the islands are what almost every visitor does as nothing else to do on the island besides staying on the beaches.
We travelled with a baby so didn't really do any excursions but just the island alone for us was enough.
Since you must stopover before heading to the resorts, should get to know more about how the locals live and what they do for living.
Maldives is amazing place. Blue crystal clear waters, white sands and beautiful beaches. A stunning collection of virginal coral islands is a great for divers or snorkellers.
Snorkeling at the Banana Reef, Dive at Lion reef, discovering "sexy" beach and if you not so good swimmer - avoid some reef/ ocean because had bad experience when swimming to discover shark, the wave was extremely big that could pushed you away from your group, breathless and could even made you drowned.
Book for a decent s,tay if you want to enjoy the trip to Maldives. Snorkeling and diving a must if you visit the islands.
We preferred Maafushi to a resort partly as cost about half but also liked real community and choice of restaurants.
we stayed at Velassaru for 2D1N and a day trip to Anantara Resort. Everything in the private islands we've been costs a fortune.
Maldives is truly a heaven with its white sand beaches and numerous diving spots. It has some of the most beautiful beach resorts where you can go and relax.
Cannot even express with the words. So, only one word to advise: "A paradise you must go before you die!!" (just don't care about the cost).
Maldives rock :) Must visit again and again. It have the most beautiful waters and reef I've ever seen.
I love the Maldives islands...recommend a long stay and island hoppings. I will come back again to Maldives.
Male has nothing much to do or see, maybe the more interesting thing is the Submarine tour and make sure you chose the seats on the right.
There are many islands, with each being a little different from the others. You could get hotel to arrange excursions to visit some of the other islands around the one that you are staying to snorkel or dive to see the live corals, different fish, turtles and manta ray.
---
Maldive Islands's best hotels with breakfast
---
Frequently asked questions
What are the most well-known resorts in Maldive Islands?
A number of our most favorite accommodations in Maldive Islands are Kaani Palm Beach at Maafushi, Paradise Island Resort and Spa and Arena Beach Hotel at Maafushi.
What are the top accommodations in Maldive Islands for families?
Resorts in Maldive Islands that are remarkably scored by families include Kaani Palm Beach at Maafushi, Paradise Island Resort and Spa and Arena Beach Hotel at Maafushi.
What resorts in Maldive Islands have the best breakfast?
Verified tourists to Maldive Islands have given top rated reviews for the breakfast at Hotel Alaka At Maafushi, Velassaru Maldives Resort and Sunrise Beach & Spa at Maafushi.
What's the best area in Maldive Islands to stay in?
Favorite areas amongst foreigners staying in Maldive Islands include South Male Atoll, North Male Atoll and South Ari Atoll.
What are the most suitable properties in Maldive Islands that have spas?
Verified travelers to Maldive Islands have given top ratings for the spas at Banyan Tree Vabbinfaru Resort, Constance Halaveli and Velassaru Maldives Resort.
What are the prime places to stay located in Maldive Islands that have restaurants?
A place to stay which has restaurants in in Maldive Islands which is very highly rated is Konut by Thakuru.
What are the very best hotels in Maldive Islands with fitness center?
Resorts that has a fitness center in Maldive Islands which are well rated include Finimas Residence and Emerald Faarufushi Resort & Spa – Deluxe All Inclusive.
What's the best place in the center of Maldive Islands?
The best area in the heart of Maldive Islands is South Male Atoll.
What's the best area for sightseeing in Maldive Islands?
The best district with a wide selection of tourist destinations in Maldive Islands is North Male Atoll.
What are some upcoming holidays in Maldive Islands?
Holidays that are coming up in city_name include Beginning of the Holy Month of Ramadan on 3/23/2023, Eid ul-Fitr (End of Ramadan) on 4/21/2023, and Labour Day on 5/1/2023.
When should I make a trip to Maldive Islands?
Last year, Maldive Islands received its most visitors during the month of December. In spite of this, make sure to consider other months during which there are less guests, as the most popular sights will be less packed.
Is evidence of vaccination mandatory to enter Maldive Islands?
Proof of COVID-19 vaccination is not required is currently required to enter Maldive Islands from outside the country. For additional details, please speak to local authority or go to here.
Explore more travel vacation rentals
Other popular destinations in Maldives
---
More about Maldive Islands
Maldives Islands
Famous for its surgery white sands and breathtaking beaches, the Maldives Islands are popular with honeymooning couples, families, and anyone else in search of a postcard-worthy vacation. Located in the Indian Ocean, these islands are celebrated for their world-class Maldives resorts on water and Maldives Islands hotels. As a veritable tropical paradise, the Maldives attract visitors from all over the globe who come to enjoy its spas, beaches, watersports, casinos, sunny climate, and more. Luxury resorts in the Maldives cater to international clientele.
Getting Around Maldives
After landing at Valena International Airport, travelers typically book into their Maldives Island resorts or enchanting Maldives underwater hotels. Because of the reefs surrounding the islands, most yachts avoid docking there. Once booked into their Maldives vacation resorts, travelers tend to take speedboats, charter boats, or taxi services to reach other destinations on their island or on other islands.
Best Places to Stay in the Maldives
There are more than 1,100 coral islands that make up the Maldives. Of course, there are many hotels in Maldives to choose from that are situated on many different islands. North and South Male Atolls are the most popular with tourists and are home to the best Maldives resorts. Male is the capital city of the Maldives and, as such, features many luxury 5 star Maldives resorts. The capital is also home to some cheap hotels in Maldives. Many of the most adventurous vacationers opt to book rooms at Maldives under water hotels. Komandoo hotels Maldives are also popular with tourists.
Where to Stay: Maldives Resorts and Maldives Hotels
The Maldives caters to vacationers, so it's no surprise that it features world-class accommodations. Many resorts in Maldives are located on beaches and feature holistic spas and other luxury services. The best hotels in Maldives feature attentive staff with concierge service and onsite-dining. Many affordable resorts in Maldives cater to families traveling with children. Maldives Islands honeymoon resorts cater to couples and often feature private pools and beaches for guests. For holiday seekers who prefer all-inclusive deals, there are Maldives all-inclusive resorts overwater bungalows available too.
Attractions of Maldives Islands
For many vacationers, luxury Maldives resorts are the only attractions they're looking for. However, the islands are a natural paradise and boast many natural and cultural attractions for visitors to enjoy such as:

National Museum
Tourists can visit the Maldives National Museum to learn about the islands' unique maritime history. The museum features artifacts that date back to the Medieval period and include religious objects, ceremonial objects, weapons, and more. The National Art Gallery is also popular with vacationers and located near romantic Maldives resorts.

Grand Friday Mosque
As the biggest Mosque in The Maldives, the Grand Friday Mosque attracts many international visitors. Located in the capital, it's convenient accessible from Male Maldives hotels.

China Maldives Friendship Bridge
A gift from China, the China Maldives Friendship Bridge has become a popular Maldives landmark, though it spans a section of the sea between Male and the island of Hulule. Hotels near Maldives airport are located in the vicinity and are popular with visitors.
Things to Do in Maldives Islands
The Maldives is a vacation paradise with its stunning beaches and sunshine. Whether booked at family friendly resorts Maldives or the most luxurious hotels in Maldives, vacationers often enjoy the following activities:

Scuba Diving
There is no shortage of world-class surf sites in the Maldives. Divers come from around the world to enjoy its underwater sights that include sunken vessels and colorful coral reefs. Hanifaru Bay is regarded as the best diving site in the islands. Blue Hole is another spectacular place to dive. Both of these areas are located near popular Maldives Islands resorts.

Snorkeling
Snorkeling is one of the most popular pastimes among vacationers in the Maldives. Many of the top resorts in Maldives feature guides for snorkeling as well as equipment rental service. Some of the best places to snorkel include Bandos Island, North Ari Atoll, Baros Island, and Hadahaa Island. Some of the best snorkeling locations are also home to the best resorts in the Maldives for couples.

Canoeing and Catamaraning
Boating is another popular activity in the islands. With its calm turquoise waters, Alimatha Island is a popular destination for canoeing. The island is also home to popular Maldives beach resorts. On the other hand, some vacationers prefer to charter a catamaran to sail from island to island to enjoy their beautiful beaches and powder white sands.

Enjoy the Casinos
The Maldives is home to casinos that cater to international visitors. Popular nightlife spots, Male's casinos, in particular, attract many visitors. The best hotels in Maldives are located near some of the top casinos of the islands.

Eating in The Maldives
Many Maldives luxury resorts feature on-premises dining venues, most of which feature fresh seafood prepared by chefs. Top Maldives resorts in Male are located near many fine restaurants that are popular with tourists too. The cuisine of the islands relies heavily on seafood, especially tuna and mahi mahi, but visitors will also find that the best hotels in The Maldives feature restaurants that serve curries and international cuisines like Spanish and Italian foods. Maldives resorts honeymoon venues often feature multiple dining venues where guests can enjoy buffets as well as a range of international foods. Maldives hotels on water generally feature dining areas and nearby eateries like outdoor cafes.
Shopping in the Maldives
Most visitors explore Male's shops to purchase handicrafts, clothing, or souvenirs. Male Maldives resorts are located near boutiques. Other resorts in the Maldives Islands feature onsite gift shops that sell a wide range of vacation-friendly goods. There are also many small markets situated throughout the islands. Depending on the Maldives accommodation, there may be markets and shops nearby.

Travelers who want to vacation in The Maldives to enjoy surfing, diving, and other watersports can visit Agoda to find Maldives resorts with private pool or Maldives Islands luxury resorts. Agoda can help vacationers find the best hotels all over the world.