Best Hotels with Jacuzzis in Klong Son
Our top picks
Lowest price first
Nearest to
Best reviewed
See all
Marina Sands Resort (SHA Extra Plus)
Klong Son,Klong Son - View on map
"Mixed views on this one Rooms are huge with a modern feel, the bathroom follows suit. There is a huge flat screen TV with a few cable channels. Good wifi. The beds are really comfortable with nice linen. We had twin beds and were a little bemused that they were only 2'6" wide which seemed out of keeping with the room dimensions. Big patio with good, big double glazed doors. nice comfortable patio chairs and table. Could do with a couple of sunbeds to finish it off. We were on the 3rd floor and had a lovely view,. The hotel is a 5 minute stroll to the beach. We were 'all-inclusive' but this is not what it seems. The resort claims 3 restaurants but you can only use the one at the hotel, right away from the beach. Food from the menu is great but that was only for lunch. The 2 nights we were there they had Thai Street Market at dinner time, so 4 stalls and a choice of Pad Thai, Satay, Green Curry or chicken wings! Cheap food and not particularly good. Not fair on AI, FB or HB guests. "
Show more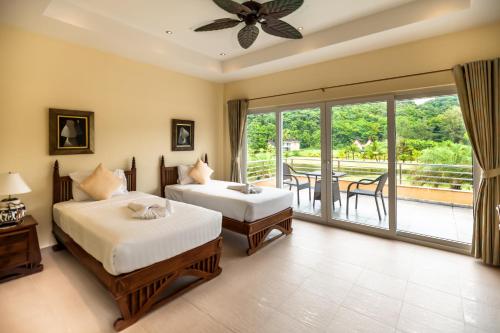 See all
Little Sunshine Boutique Beach Resort & Spa
Klong Son,Klong Son - View on map
"I traveled with my wife to Koh Chang for our honeymoon in February. We intended to stay for 6 nights and move on but extended for another 6 nights. Positives;- We booked a paradise room which is small, but has a large bathroom and quality sea view. Our room was cleaned well daily. The breakfast was a good standard, there was free use of the hotel kayak, you can use the large swimming pool at the next door hotel, there is free bottled water in the rooms, a laundry service (which is cheap and arrives the next day). The manager was very accommodating, relaxed, friendly and gave us a lift into White Sand Beach of an evening. All in all it is an excellent beach location – very peaceful and relaxing. Agree with positive reviews. The garden area is nice, there is no fighting for sun beds and it is totally chilled out. Just what we needed. Ping the ginger cat also kept us entertained. Negatives;- The hotel needs to publish useful information for guests on services as we only found out certain things by previous reviews and word of mouth. Be prepared as it is a remote location and if like us you need more activity in the evening, then a taxi is 400-500 TBH for a one way trip. It is only a 15 minute journey, but this is over a mountain. However, we thought the excellent location more than made up for this. Hotel restaurant – found the menu limited in the evenings. Although the food was nice, you may not want to eat there every night and there are limited other viable options in the area. Overall, you will not be disappointed, it was a privilege to stay in such a nice location and I would love to come back in the future. "
Show more
See all
Boat House Riverfront - Hotel Managed
Klong Son,Klong Son - View on map
"The Boat House is a modern, very nice and quiet place. As its part of the "Siam Royal View" complex, it helps if you have your own transport. There is a shuttle bus service available, but especially if you wanna stay longer an own transport helps.... The pools are just for older kids who are able to swim. But as the sea is very shallow in this area its anyway the better alternative. We'd definitely recommend the place and think about coming again... "
Show more
See all