10 best hotels in Makati
Our top picks
Lowest price first
Nearest to
Best reviewed
See all
Ascott Makati
Makati,Makati - View on map
Airport transfer
Pets allowed
Car park
Shuttle service
Hot tub
Fitness center
Free Wi-Fi in all rooms!
Front desk [24-hour]
"the reason why i moved to ascott makati were the bad experiene i had from bsa tower. they accused my brother that he took away dirty towels. the staff were very unprofesional. therefore i searched for a new hotel and i was not wrong to choose ascot makati hotel. location, amenities including washing up liquid was available. i will consider to stay again with this hotel. thank you for considering for the cancellation from bsa hotel."
Show more
Avg price per night
$ 247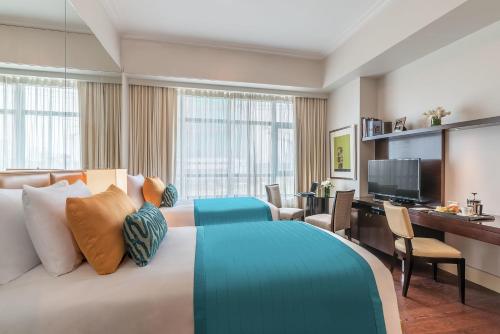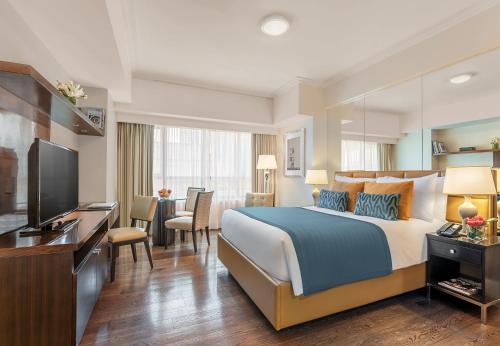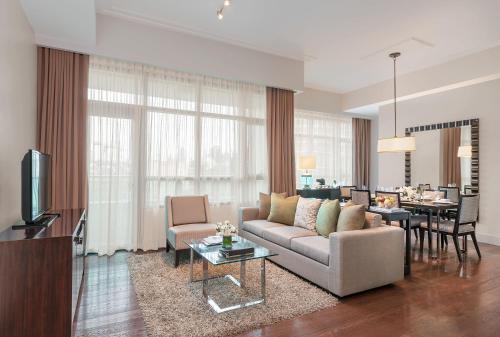 See all
Aruga Apartments by Rockwell Makati (Staycation)
Makati,Makati - View on map
Airport transfer
Car park
Free Wi-Fi in all rooms!
Front desk [24-hour]
Fitness center
Swimming pool [outdoor]
Check-in/out [express]
Luggage storage
"I enjoyed my stay in aruga hotel. I'll definitely come back. The hotel lobby is very clean, so relax , nice smell , staff are very efficient and helpful. It's a very exclusive hotel and very peaceful . Upon arrival there were available staff to help us with our bags . We checked in smoothly. The rooms are all equipped with washing machine and dryer, stove , microwave , toaster and utensils. Rooms are very clean and mattress very comfortable. Hotel is just across power plant mall near entrance of mango and marks . There is a access doors in the basement going to the mall. Breakfast are just plate in average taste but in a few months time they will serve breakfast buffet for the guests. Nice gym and pool. With their price it's more worth it than any 5 stars hotel in makati. I strongly recommend to try this hotel ."
Show more
Avg price per night
$ 160
See all
Red Planet Manila Makati
Makati,Makati - View on map
Car park
Free Wi-Fi in all rooms!
Safety deposit boxes
Wi-Fi in public areas
Smoking area
Security [24-hour]
Smoke-free property
Body thermometer
"Our stay at the Tune Hotel in Makati was an excellent one; my partner and I were very satisfied with the room and the service, considering the excellent price. If we needed to pass through Manila again (we wouldn't want to spend a whole holiday there!), we would definitely come back. When it comes to hotel rooms, we only have a few key criteria when travelling in South-East Asia: 1. The room and bathroom must be clean, without insect infestations or mould issues. Hot water should always work properly. 2. There must be a reliable internet connection, with an average speed of above 10 KB/s. 3. The air-con must work. 4. Staff must be, at the very least, non-confrontational. 5. The location must be OK (taxis and the like are relatively cheap anyway). The Tune Hotel in Makati not only satisfied all of these requirements; it exceeded them. The room was safe and clean; the internet connection was fast and stable; the staff were incredibly helpful. Having booked through Agoda, all of the extras were including throughout our stay - I highly suggest that you book here, since it ended up being far cheaper than if we had booked everything through the Tune Hotel website's booking system. If you go to the counter, they'll give you an even higher rate! "
Show more
See all
Hop Inn Hotel Makati Avenue Manila
Makati,Makati - View on map
Car park
Free Wi-Fi in all rooms!
Front desk [24-hour]
Check-in/out [express]
Luggage storage
Safety deposit boxes
Concierge
Wi-Fi in public areas
"Helpful and very nice frontdesk staff, location is near to lots of restaurants, a few distance to Ayala too."
See all
Berjaya Makati Hotel
Makati,Makati - View on map
Car park
Free Wi-Fi in all rooms!
Front desk [24-hour]
Luggage storage
Swimming pool [indoor]
Fitness center
Contactless check-in/out
Spa
"The Best Western was a nice and convenient hotel in Makati. The rooms were well kept and had a nice bathroom. The room service was nice. I was able to order a very tasty hamburger at 3 am and the price was very reasonable. It's location has it positives and negatives. The positives were that it was on a main street which provided for easy access to the jeepney transit systems (a must ride). There are also several nice restaurants that are opening up around it, as well as, the inexpensive fast food places. It sits in the heart of the Makati redlight district, which is a positive if that is what you are looking for, but is a negative as well, because (for men at least) as soon as you step out the door you are being solicited by a young woman, or young man dressed as a young woman (a ladyboy). It is only a 10 minute ride to the Greenbelt Mall which is straight up Makati Avenue. The Greenbelt is a nice mall with plenty of shops, restaurants, and bars. There is also another mall (whose name eludes me) that is within a 10 minute taxi ride from the hotel. In all, it was a nice hotel and one that I would have no problem returning to on my next trip to Manila (Makati)."
Show more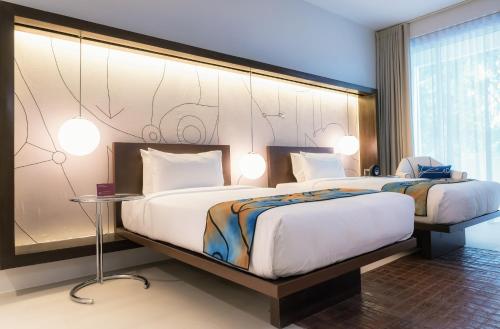 See all
The Picasso Boutique Serviced Residences Managed By HII
Makati,Makati - View on map
Airport transfer
Car park
Free Wi-Fi in all rooms!
Front desk [24-hour]
Luggage storage
Contactless check-in/out
Coffee shop
Bar
"the place was difficult to find, after all, this is makati's best kept secret, but after a quick phone call to the hotel for directions, you'll realize that it is probably the most centrally located or all makati hotels. there is a reputable bar/resto, international foods grocery, and spa downstairs! the nice shopping malls like glorietta and greenbelt can be reached by foot or a short taxi ride, so is the plush rockwell, and the bonifacio global city is just at the other side of edsa. the staff booked me in a room with free wifi which is a big plus for me. it's a new hotel so the appliances and furnishings, done in modern-minimalist style, are fabulous. for the serviced apartment convenience, without the high cost, picasso is a wonderful option you won't regret!"
Show more
See all
iHotel Uptown BGC
Makati,Makati - View on map
Free Wi-Fi in all rooms!
Front desk [24-hour]
Wi-Fi in public areas
Smoking area
Security [24-hour]
Smoke-free property
Body thermometer
Daily disinfection in common areas
"I've booked here twice and this place is so far the best and affordable. During our second stay though we had to change rooms because of some minor room issues but the staff did their best to make us comfortable. Which is very a big plus. Will continue to book again in the future. "
Show more
See all
Makati Riverside Inn
Makati,Makati - View on map
Free Wi-Fi in all rooms!
Front desk [24-hour]
Check-in/out [express]
Coffee shop
Bar
Laundry service
Safety deposit boxes
Tours
"Makati Riverside Inn totally changed my outlook for inns out there. Being an introvert of some sort, I prefer to spend holidays like New Year's Eve in the comforts of a hotel rather than go outside and party with friends. This year's celebration is no different. Instead of the usual hotel experience, I decided to book an inn this time because I've heard people say that their facilities are competitive enough compared to (budget) hotels out there. When they gave Makati Riverside Inn an excellent rating, I thought their customers must have loved them to score them that high. And, I'd say the ratings are true. PROS. Situated in the heart of the Makati, this place is perfect if you want to have a quick escape of the fast-paced city life. The building is new and just a few steps away from the main road. Via jeepney, you are about 5 minutes away from Rockwell. The rooms are furnished with white crispy bedsheets, wooden table big enough to be your dinner and/or work table and travel necessities like fridge, closet and power sockets (mine has 3). Fridge is stacked with soda, root beer, beer and bottled water- all reasonably priced. The bathroom was squeaky clean and is complete with hot and cold shower, bidet and a customized glass (with holder attached to the wall) that you can use when brushing your teeth. By the way, you get complimentary bottled water upon arrival. CONS. There's no electric kettle inside the room so if you need to grab a quick coffee or hot chocolate in the morning, you have to go downstairs to the kitchen where they have a water dispenser available for their customers. Secondly, there's no nearby convenience store or a fast-food restaurant so if you need to eat, you either have to bring food from outside or just have it delivered. The receptionist has numbers of food establishments nearby that you can choose from and they're more than willing to help out should you decide to choose this option. Overall, Makati Riverside Inn has created a new fan in"
Show more
See all
The Peninsula Manila
Makati,Makati - View on map
Airport transfer
Valet parking
Shuttle service
Free Wi-Fi in all rooms!
Fitness center
Sauna
Front desk [24-hour]
Check-in/out [express]
"You can stay at the Shangri La and pay a lot more money, and you can enjoy the aging plumbing and lights in your room. Or you can stay at the Peninsula, and enjoy being treated as a visiting family member. The location is as good as you can have in Makati. The hotel is across the street from everything. The stock exchange, the beautiful park, all the malls, Glorietta, Greenbelt, Rustans, Landmark. The view of the Manila skyline is enough to keep you looking out the window in your room for a long time. The hotel and all facilities are immaculate. Not just clean. Spotless, polished, cared for with such pride. The housekeeping staff is friendly and efficient. If you want to go out for only a few minutes, they will have your room clean and cozy when you get back. The wonderful people on the staff make every effort to do their services on your schedule, so you can enjoy your time uninterrupted. The staff at the Peninsula is by far the best asset. Every staff member makes an obvious effort to make the guest feel welcomed, appreciated, and cared for during their stay at the Peninsula. All the facilities are wonderful. The food is some of the best you can find in Makati, and and will be pleasing to all palates, no matter where you come from. The Peninsula hotel is my home in Manila. I have stayed at most of the better hotels in Makati, all of which are very good. I must say though, that the Peninsula makes me feel like I am home, and so comfortable and relaxed. My fiance and I sat outside the driveway at the entrance at 4 am, and sang songs to each other. It was quiet, peaceful, and though there were many security guards close by, they left us alone and allowed us our romantic moments. Thank you Peninsula staff !! You're all the best and most professional in the business."
Show more
Avg price per night
$ 207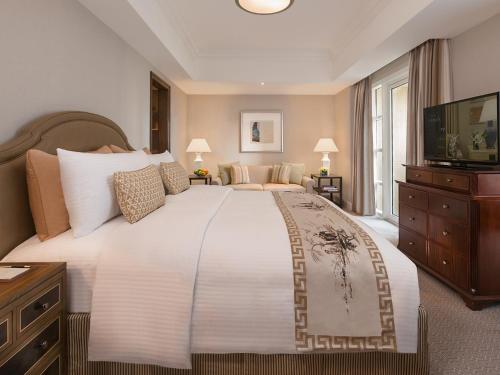 See all
Discovery Primea Hotel (Multiple-Use Hotel)
Makati,Makati - View on map
Airport transfer
Valet parking
Pets allowed
Shuttle service
Hot tub
Golf course [on-site]
Free Wi-Fi in all rooms!
Front desk [24-hour]
"Discovery Primea is now one of my favorite hotels in Makati. Exuding class and towering presence, this hotel is centrally located within Makati's central business district. I like their heated pool but they can improve their breakfast spread by offering buffet."
Show more
Avg price per night
$ 203
More about Makati
Makati City is one of the most important districts in modern Metro Manila. It features modern shopping facilities, a booming business bloc and a base of affluent Filipino residents. Accommodation in Makati is offered in every price bracket, with plenty of top-end luxury hotels available.

At the center of Makati is the Philippine Stock Exchange, making this the most important financial hub in the archipelago. Business travelers from around the world regularly pass through Makati to negotiate arrangements with local executives, and these visitors have a great selection of business-oriented hotels to choose from.

Tourists can also appreciate the modern infrastructure of Makati, with world-class shopping available in the Ayala Center. There is no better place in the Philippines when it comes to shopping for international designer brands. Other attractions in the area include the Manila American Cemetery, Greenbelt Chapel, the Ninoy Aquino monument and Ayala Museum. The Nuestra Senora de Gracia Church, a UNESCO World Heritage Site, is also located in Makati.

Part of the Ayala Center, Greenbelt has the best selection of entertainment venues. It hosts fast-food and fine-dining restaurants, and also has a roaring selection of nightclubs and bars. This is the place to be seen for young and successful Filipinos. Nearby hotels in Makati make this area highly accessible to visitors as well.