Hotels with smoking area in CBD
Our top picks
Lowest price first
Nearest to
Best reviewed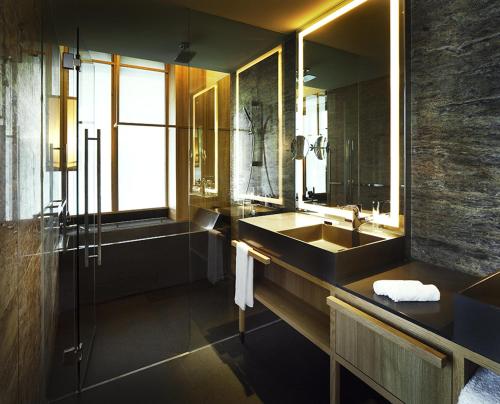 See all
PARKROYAL COLLECTION Pickering, Singapore (SG Clean Certified)
CBD,CBD - View on map
"I had a short weekend staycation there, and I'd have to say that it is one of the best staying experience I've ever had. Especially for such an urban hotel right in the heart of Singapore. The place breaths eco-friendly; literally, there are trees on every level of the building which makes the hotel a sight to be seen from both the inside and outside. The location is perfect for business travelers working in the CBD and breakfast at the Lime restaurant is awesome. Considering it is a new hotel, you might want to make sure that you give a full address to your cab driver, as there are two Park Royal Hotels in Singapore. "
Show more
Avg price per night
$ 414
See all
The Scarlet Singapore Hotel (Staycation Approved & SG Clean Certified)
CBD,CBD - View on map
"The Scarlet Singapore Hotel is notable due to service and location. The staff is superb, helpful, professional, and personable - each and every one of them. Our room was equipped with a device called Handy that is a phone and sort of electronic concierge. We researched places to visit and restaurants. We booked tickets at much lower prices than other sites. It was so helpful to have this free device, which also included free international and local phone calls. Amazing. The hotel has a prime location. It is across the street from Maxwell Food Court with dozens of food stands, including one for the best Hainanese Chicken stalls in Singapore. The hotel is one block from Chinatown and the Buddha Tooth Relic Temple, three blocks form the Sri Mariamman Temple, etc. The hotel itself is small with a cozy lobby. Our room access was down a long sloping and twisting hallway. The room was on the small side, but well appointed and beautifully decorated. "
Show more
Avg price per night
$ 159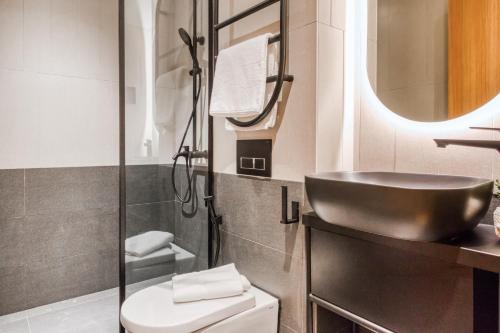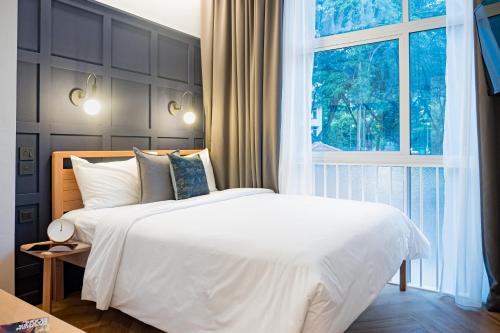 See all
Hmlet Cantonment (SG Clean Certified)
CBD,CBD - View on map
"I booked this hotel for 8 nights and the stay was absolutely great. Location is great, staff are amazingly helpful. They will go out of there way to help. Love you guys. Hotel is clean and well maintained, very clean rooms with all the necessary items. Will definitely recommend this to my friends and will definitely stay here again. Thank you for making my stay beautiful."
Show more
Avg price per night
$ 110
See all
SO/ Sofitel Singapore (SG Clean Certified)
CBD,CBD - View on map
"It's strategically located in CBD area and you are able to find Lau Pa Sat right beside the hotel. Stayed 3 days 2 nights from 30 December 2020 to 1st January 2021. However, during the 2nd day called twice for housekeeping and they didn't make the bed. Not too sure why. Ordered in room dining nasi goreng and steak. Nasi goreng was bland though no taste at all. Ala carte breakfast was so so. Overall stay is okay just need to pre book gym and swimming pool."
Show more
Avg price per night
$ 367
See all
Oasia Hotel Downtown Singapore by Far East Hospitality (SG Clean Certified)
CBD,CBD - View on map
"I booked a deluxe room at the new Oasia Hotel for a small break from our routine here in Singapore. I've watched the building go up and I was curious as to what the inside looked like, and was also intrigued by the hotel's "club". Overall it was a 4 star experience - here's what I liked and what could be improved. The good: The staff were perfect and were kind enough to send us chocolates. That's always good. The room was on the smaller side, but everything clicks into place and was finished with a good attention to detail. The bed was comfy and clean. I liked the light switches on both sides of the bed. The shower was powerful and the towels were so nice and fluffy. The gym looked great. The eggs and juice at breakfast were nice. The average: We booked the room for half price, as they were having an opening deal. Even at half of the normal price, I felt like we did not quite receive the level of luxury expected from a luxury hotel. It felt like a nice business hotel. The pool felt pretty small (which can't be changed) and cold (which might be a good thing here in SG). The keycards won't work in the elevators or doors unless you press them all the way against the reader. Breakfast was $20 each, and wasn't particularly good. Either the milk or the coffee tasted funky - I'd hope for some tastier stuff at a place like this. I'd save your money for some of the good cafes nearby. Overall, I would recommend this for business travelers. Perhaps regular life in Singapore has pampered me so much that my expectations for luxury are too high. "
Show more
Avg price per night
$ 217
See all
Ascott Raffles Place Singapore (SG Clean Certified)
CBD,CBD - View on map
"this was our second hotel and when you move from a 3-4 star accommodation to a 5 star place in marina bays, you really notice the difference. this is a luxurious residence hotel for executives and business people. you will not find small children running around making noises here, which makes it great if you are seeking a getaway with a peace of mind, or if you are looking for a romantic time like we were. the room was amazing. the room was full of quality items and facilities. shower gel and shampoo set are loccataine branded. the room size is huge. the bed was superb! you will only feel like bringing the bed home with you! the swimming pool was amazing. it was like a giant fish tank on the 19th floor. we looked like giant fishes swimming in it! it felt like an infinity pool. in fact it can be considered an infinity pool. best thing is you will find your space without children playing around in the waters. they had a great gym that is huge! there was also a lounge with coffee beans from france, chocolates and biscotti from france too! really quiet which was what i was looking for. the staff was amazing too, they really know how to manage a hotel and even the way they talked were really professional. you feel like a high up executive when you stay in this place! i loved it and wouldn't mind staying for a whole month!"
Show more
Avg price per night
$ 348
See all
AMOY by Far East Hospitality (SG Clean Certified)
CBD,CBD - View on map
"The complimentary cocktail upon check in was great. The Airport transfer was indeed very appreciated. The complimentary food and drinks were the best. Most of all, the whole staff was so wonderful. I can't think of any flaw nor comment. The hotel set a very high standard in all aspects- and I mean it. Thank you so much!"
Show more
Avg price per night
$ 206
See all
M Hotel Singapore
CBD,CBD - View on map
"This hotel is the best. Anyone should invest on booking at this hotel because you will have the time of your lives. I book it with 50% discount. My booking room is business deluxe room. The hotel is situated 10 minutes from Tanjong Pagar MRT (exit H),the central shopping district and there are also shopping malls beneath the hotel. M Hotel also has a wonderful Barbecue dinner buffer. This is a 5 star hotel with 8.0 out of 10.0 good views. In all, this hotel is very convenient and excellent. You should definitely consider staying at M Hotel as it will be the best choice in Singapore. I think this is a good choice especially for business traveler."
Show more
Avg price per night
$ 242
Discover the neighborhoods of CBD
---