Best Hotels with Spas in Sentosa
Our top picks
Lowest price first
Nearest to
Best reviewed
See all
Avg price per night
$ 805
See all
W Singapore - Sentosa Cove (SG Clean Certified)
Sentosa,Sentosa - View on map
Transport to airport
Valet parking
Shuttle service
Complimentary WIFi in all rooms
Swimming pool [indoor]
Hot tub
Front desk [24-hour]
Check-in/out [express]
"Our stay at the W Hotel in Sentosa was fasinating. I think it was actually the Best Hotel of the year for us. We stayed 2 nights and felt so comfortable. Pool was so nice and lovely design and was able to relax and was able to release all the stress. Kids especially loved the pool and spent the whole day in the pool. There is a very nice promenade by the side where luxury yachts are all parked.. It feels very romantic when walking with your love ones. W is the best hotel in Sentosa and we have no doubt about that."
Show more
Avg price per night
$ 985
See all
ONE15 Marina Sentosa Cove Singapore (SG Clean Certified)
Sentosa,Sentosa - View on map
Bicycle rental
Car park
Shuttle service
Complimentary WIFi in all rooms
Golf course [on-site]
Exercise area
Front desk [24-hour]
Luggage storage
"The staff are very pleasant and ready to help. The location is nice. While Sentosa itself is small, this hotel is about a 5 minute drive to Merlion and another 5 minutes ahead to ResortsWorld. Its also walking distance to the bus stop where the free buses (these buses go to convenient locations around the Sentosa island) take a stop. The views from the hotel are nice, overlooking the marina. It doesn't have the feel of your conventional hotel with closed walls. Its very open and is a nice pleasing property. They lack a dedicated bell desk, however the front desk staff are always ready to help with luggage. Please note that the hotel's room service is available only until 10pm and housekeeping until 9pm. They do try to accommodate any emergency of housekeeping if required (we did require). We stayed in the Monte Carlo Suite 2, which is the 2nd highest category room in the hotel. Its a spacious and well kept room with a large bathroom and with a balcony. The downside is there is no window or direct sunlight in the bedroom part itself. The only daylight that comes is the indirect one through the bathroom (the layout is such). At the prices charged, the toiletries should be of better quality/brand. The same layout and room size etc is available for possibly lower prices as other category suites, only without a balcony but more or less the same view, which makes this a little less value for money. One also gets a good room at the W hotel at the same price as mine, with the same location in Sentosa. We also had ants in one part of the room (in a cupboard and the adjacent open shelf). Unfortunately, 2 boxes of my younger child's food (formula milk powder and cereal powder) got infected with ants and had to be thrown. Luckily we had carried extras. We didn't bring this issue to the hotel's notice. We are vegetarians and the food options available were quite limited. Whats available however, is good to taste (don't miss the chocolate milkshake!). We did have one issue whe"
Show more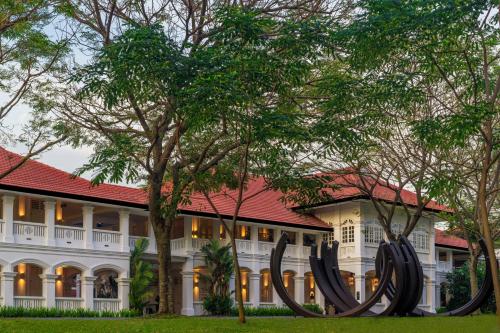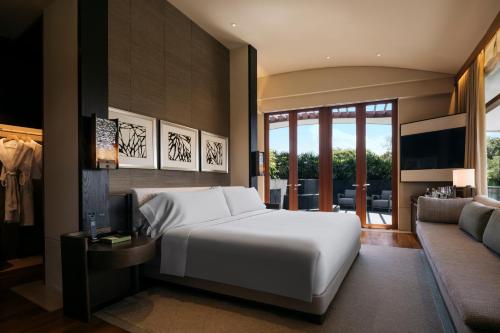 See all
Capella Singapore Hotel
Sentosa,Sentosa - View on map
Transport to airport
Bicycle rental
Valet parking
Pets allowed
Swimming pool [indoor]
Hot tub
Shuttle service
Complimentary WIFi in all rooms
"this hotel in sentosa is a well known in sentosa. but it's my first time there due to the price but surprisingly i find my money very much worth while during my stay there. i got my own private pool with and also a outdoor bathroom which is so awesome. even if you dont wanna shower out there, you can still choose the indoor bathroom. everything you want is there. a buggy to bring you around the hotel premises. live life like a king"
Show more
Avg price per night
$ 1,016
See all
Shangri-La Rasa Sentosa, Singapore
Sentosa,Sentosa - View on map
Transport to airport
Car park
Shuttle service
Complimentary WIFi in all rooms
Kids club
Exercise area
Front desk [24-hour]
Check-in/out [express]
"This was the second time we stayed at Rasa Sentosa Hotel and we were very glad we did. It was a relaxing and pleasurable stay. The staff are so friendly and helpful and we were very impressed that they remember your name. The only drawback would be the pool closes too early. Other hotels keep their pools open until 10 or 11pm but Rasa Sentosa closes at 9pm. Another thing is the noise from the ships in the harbour but with the balcony doors closed that is not a problem. Overall we would go back again if we had the chance."
Show more
See all
Capella The Club Residences Singapore
Sentosa,Sentosa - View on map
Transport to airport
Bicycle rental
Pets allowed
Car park
Hot tub
Golf course [on-site]
Shuttle service
Complimentary WIFi in all rooms
"Checking in was not very smooth for us as I forgot to bring my identitication card for verification, even when my companion volunteered to use hers, Capella is very strict to only verify the booking with the person who booked the room even though i produced the credit card i used to book. A little inconvenient but at least they are strict in the check-in policy which at least makes me feel safer on security standard.. They are however kind enough to release the room to us but still expect me to provide a softcopy of my identitification card within 12 hrs. While I was pondering (with a sunken face) on how should i get it done as Sentosa is very far away from my house, Sophia noticed my expression and out of concern, asked me whether I am okay and do I need any help. She seemed apologetic to my situation but they still stand by their policy.. Not complaining but giving them the thumbs up for attentiveness to guest and being strict on policy which i hardly see in other hotels. Fortunately i managed to find a softcopy and cleared the check-in fast. However, our room was not ready (even at check-in time) and we were ushered to The Library to enjoy their lounge with snacks and drinks. We waited for almost 2 hours before we were told that our apartment is ready. Not very happy with the wait as I would expect it to be ready by check-in time, and we got bored with the minimal snack selections that didn't get top up fast enough. The staff serving us has been very friendly and drove us to our apartment even though it was a 2-3 mins walk from the lobby. Upon arrival then the staff told us that they have upgraded our room from a 1-bedroom apartment to a 3-bedroom apartment apartment! Luckily we were here for a celebration, eventually those who are not staying decided to stay and enjoy the fantastic apartment. Totally awe by the apartment as it is very well equipped with stoves, fridge, microwave and even oven! There is also dryer and washer at the back of the kitchen. Every roo"
Show more
Discover the neighborhoods of Sentosa
---